Here we have Hunca Munca, Hunca Munca Spills the Beads
and 
Hunca Munca Sweeping 
Hunca Munca (style one) – where hunca is sitting with her babies who are in the straw cradle was issued by Royal Albert in 1989.   It was modelled by Arthur Gredington and has the back-stamp BP-6a. It was discontinued by Royal Albert in 1998.
Hunca Munca spills the beads was only produced by Royal Albert and not by Beswick.  It was modelled by Martyn Alcock and was issued in 1992.   It ran for four years and was discontinued in 1996. It has the Royal Albert back-stamp BP-6a.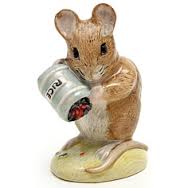 Hunca Munca Sweeping was produced in two versions with version one having two variations.  Royal Albert however only produced the first version – first 
variation where hunca is h
olding a green dustpan. The figure was modelled by David Lyttleton and the Royal Albert model was issued in 1989 and discontinued in 1998.
Deals on Ebay
Click on Item with no obligation to buy: