and
Ribby and the Patt
y Pan
Mrs Ribby:  This delightful figurine was modelled by Arthur Gredington.  The Royal Albert version was first produced in 1989 and ceased productio
n in 1998.  It has the back-stamp BP-6a.  (Beswick continued the figurine for a further two years). 
N.B. The name 'Mrs Ribby'  only appeared on back-stamps BP-6a (Royal Albert) and BP-10c (Beswick)
Ribby and the Patty Pan:  This Figurine was modelled by Martyn Alcock.   It was only issued by Royal Albert and not Beswick.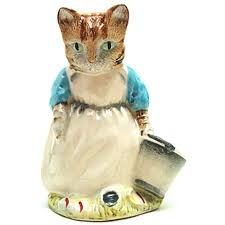 It was issued 
in 1
992
 and discontinued whe
n all Royal Albert models ceased in 1998.  It has the back-stamp BP-6a
Deals on Ebay
Click on Item with no obligation to buy: